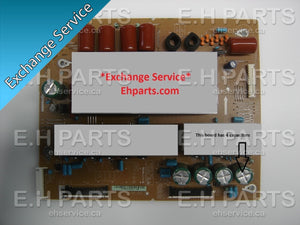 Samsung BN96-20046A X-Main Board (LJ41-09422A) LJ92-01763C
Samsung
Regular price $99.95 Sale
Manufacturer:

LG
Product Numbers:

BN96-20046A, LJ41-09422A, LJ92-01763C

For TV models:

Samsung PN51D550C1FXZC




Samsung PN51D550C1FXZA

Important Message:

Q: What is an Exchange service?

At EH Parts we offer an exchange service on some of our parts. You ship us your defective board and once you provide us with your tracking number, we ship out a fully functioning rebuild identical board. It is a great way to lower the costs of your repairs!

Q: What do I need to do after purchasing an exchange service?
You will receive an e-mail after the purchase which will contain instructions, as well as the address of our closest repair center where you can ship your board to. Once you e-mail us with the tracking number, we will send out the functioning replacement part same day. If you send us the part without a tracking number, we will have to wait until we receive the part before we ship out the identical working part.

Q: Why is there a shipping cost included in the service?
The shipping cost covers the shipping cost from our warehouses to your location.